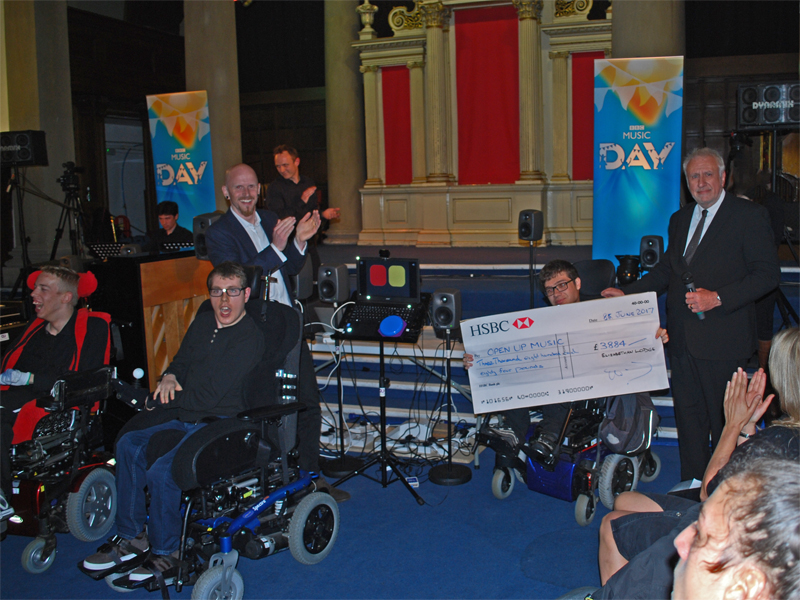 The members of Elizabethan Lodge of Bath Freemasons have raised £3884 for OpenUp Music, the Bristol-based charity responsible for the creation of The South West Open Youth Orchestra (SWOYO), the first disabled-led regional youth orchestra in the country.
OpenUp Music exists to help young disabled musicians to play a musical instrument, to develop their musicianship, and to experience the joy of performing as part of an orchestra for the very first time. Their Musical Director, Doug Bott, who conducted the concert, said afterwards:
"The South-West Open Youth Orchestra was delighted to give its Bath Fringe Festival debut at Bath Masonic Hall. Live performance is such an essential part of development for all young musicians and it was a joy to bring our music to life in such an historic and beautiful venue. We are extremely grateful to the Elizabethan Lodge for making us so welcome and for their generous donation to this, the UK's only regional disabled-led youth orchestra."
The money had been raised by the Lodge over the previous eighteen months through raffles at their regular meetings, generous donations from friends and colleagues, and fundraising events including the Lodge's annual Ladies Festival at Cumberwell Golf Club in April.
The cheque was presented to one of the musicians, Ben Pollard, by the Master of Elizabethan Lodge, Malcolm Toogood, at the end of their Festival Fringe concert on Thursday 8th June 2017. The concert was also filmed live by the BBC to be broadcast on Thursday 15th June as part of BBC Music Day 2017.
In the photo above:
Musicians (left to right): Bradley Warwick, George Roberts, Ben Pollard (with cheque)
Standing: Left Front – Barry Farrimond, Chief Executive OpenUp Music, Left Rear – Doug Bott, Musical Director OpenUp Music, Right – Malcolm Toogood, Master of Elizabethan Lodge