Elizabethan Lodge this week celebrated its Diamond Jubilee with a special meeting at the City's famous Masonic Hall in Old Orchard Street.    At the Festive Board afterwards the Master, W.Bro. Paul Mallon, read a letter of best wishes and congratulations from Her Majesty Queen Elizabeth II, after whom the Lodge was named when it was formed in her Coronation Year.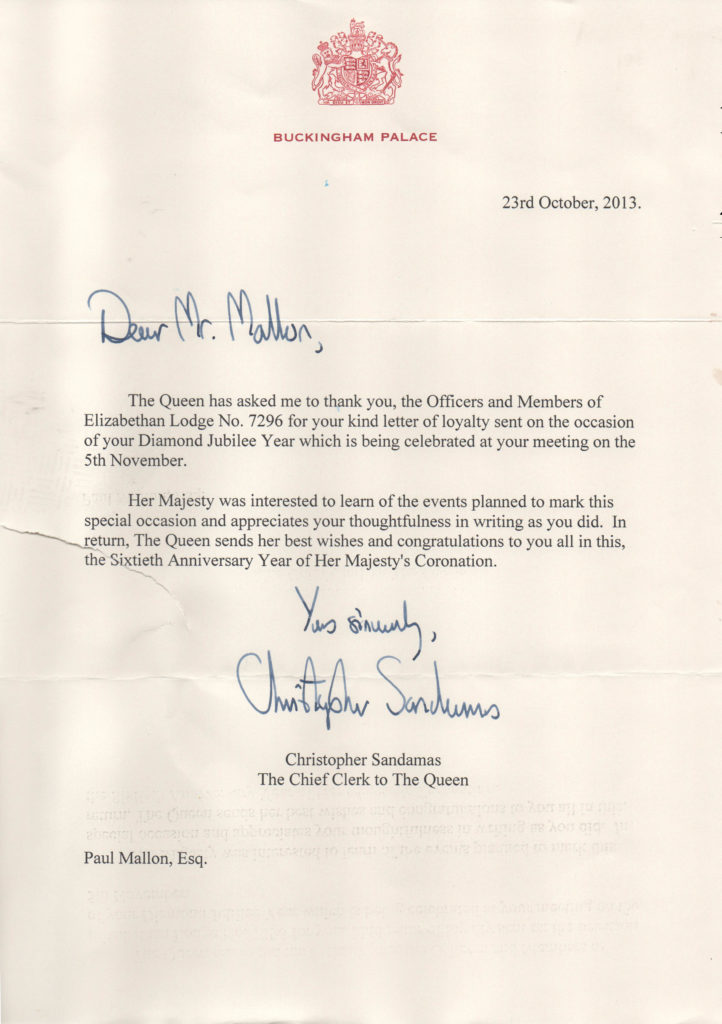 After welcoming their distinguished visitors, the gavel was passed for the evening to the Deputy Provincial Grand Master, the VW. Bro. Raymond Guthrie, who conducted an initiation ceremony with the Provincial Team, ably supported by the choir from the St Cecilia Lodge.
Several speeches alluded to the history of the Lodge, which is well‐known for its popularity among visiting Brethren, who sometimes outnumber members on Lodge nights. Such was the case not only on this occasion, but at the inaugural meeting back in November 1953, when temporary tiers of seating had to be erected at the sides of the Temple to accommodate more than 150 visitors, some from as far afield as Australia and the USA, attending in support of the Lodge's 21 Founding Members during the ceremony of consecration performed by the then Provincial Grand Master, RW. Bro. Brig. Gen. Claude Lumsden Norman DSO MVO DL. The Lodge's first Master, W.Bro. Arthur Prince, was a Bath shopkeeper.
Mention was also made of the Lodge's longest serving member, W.Bro. William Neate, who had already been a Mason for thirty years when he became one of those founder members. In 1993, he was presented with a certificate commemorating 70‐years in Freemasonry, and was still a member of the Lodge when he died four years later at the age of 100. His name is toasted at the Lodge's annual Installation Meeting using an engraved silver loving cup donated in his memory.
Elizabethan is the youngest of Bath's seven Lodges that meet regularly at the Masonic Hall, formerly the original Theatre Royal which was opened in 1750. The building, which now opens to the public for guided tours, also contains the Bath Masonic Museum, created in 1922 and containing many interesting items, including the complete minutes of the Royal Cumberland Lodge, which has met in the City since its formation in 1732, making it the oldest continuous Provincial Masonic Lodge in the country.