On Monday 16 October 2017, the Mayor of Bath Councillor Ian Gilchrist invited the Masters of the seven Lodges in Bath and their partners to a reception in the Mayor's Parlour at Bath Guildhall, to mark the Tercentenary of Grand Lodge of England and the role played in that organisation since 1723 by Bath Freemasons.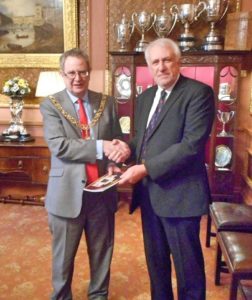 They were accompanied by W Bro David Maddern, the Provincial Charity Steward, who gave the Mayor a brief outline of the Fraternity's charitable achievements in Somerset. The Mayor was then presented with a copy of the history of Bath Masonic Hall and the Old Theatre Royal by the Hall's Historian.
They then received a brief talk from the Guildhall's Historian about the City treasures contained in the parlour, which include a silver salver and cup presented to the City by the, then, Prince of Wales in 1738.  These objects are of particular significance to us, because earlier in that visit, on October 30th 1738, the Prince had also attended a meeting of the Bear Inn Lodge (now Royal Cumberland) where the Brethren celebrated his birthday, accompanied by a number of Grand Officers including the Rt Hon Earl of Darnley, Dr John Desaguliers (both Past Grand Masters) and John Ward esq, the serving Deputy Grand Master.   During that meeting a large subscription of more than 200 guineas was raised for the Prince, that he is believed to have used to purchase these silver pieces.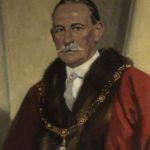 They were also shown a large portrait of Alderman Cedric Chivers who served as Mayor the most times, seven in total, that hangs above the main fireplace in the Mayor's Parlour, flanked by a fine portrait of Beau Nash.  Nash was a member of the very first Lodge in Bath, the Queen's Head No.28, and Alderman Chivers was a member of Royal Sussex Lodge No.53 for many years.  In fact more than fifty Bath Freemasons have also served as Mayor of Bath since 1723.
A most convivial evening enjoyed by all and an opportunity to reinforce our openness and engagement with the local community.
Photos:
Top – the Masters and representatives of the seven Bath Lodges plus their partners with the Mayor of Bath, Councillor Ian Cilchrist, in the Mayor's Parlour:
Right – Our Historian presents the Mayor of Bath with a copy of the History of Bath Masonic Hall.
Left – Alderman Cedric Chivers, Mayor of Bath 1922 to 1929